Exhibition stand at the Veterinary Congress in Leipzig for MSD
The trade fair project
At the Veterinary Congress 2018 in Leipzig, MSD introduced new products to the market.

The aim of the trade fair was primarily the acquisition of new customers and a stronger attention on the existing market. The unusual booth concept with turquoise LED spotlights, also in the illuminated suspension and the "self-vaccination station" attracted immediate attention from trade fair visitors. In addition to the visual concept, MSD's booth was experienced by trade show visitors. An LED show provided the right, ever-changing visuals for the booth. Visitors were also able to feel a moss wall and inoculate artificial pigs themselves.

Reaching the various sensory organs of the target group thus ensured a lasting impression and aroused the desired greater attention.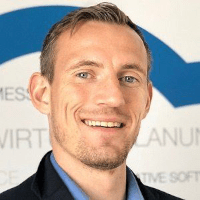 Thomas Schütz
Projektmanagement & Design
+49 (0) 2472 9910 - 35 thomas.schuetz@rocketexpo.com