Your trade fair goal
Sustainability in trade fairSustainability in trade fair construction
You want to make your exhibition stands more sustainable?
Today, the topic of sustainability is a central component in trade fair construction. Sustainability and ecology of an exhibition stand are not contradictory to economic efficiency. On the opposite: In most cases, sustainability and economic efficiency go hand in hand today. As part of our vision and mission, we have strongly focused on the topic of sustainability and ecology - they determine the DNA of our way of working and thinking.
Expertise 1: Using modular structures



We believe that modular structures, i.e. standardised elements in exhibition stand construction do not stand in the way of individualised construction. On the contrary: the large number of elements - similar to a very, very large Lego construction kit - allows us to economically produce maximum individuality within the budgets of our customers. In other words, the combination of modular elements enables a completely individual appearance of the exhibition stand.
But what does this way of working have to do with sustainability? Very much. Each of our customers wants to appear at the trade fair or event as individually and strikingly as possible. In the past this was only possible with individual components. But this is exactly where the ecological problem is. Because these components are only manufactured for your trade fairs and are therefore rarely used. Since a large part of the ecological footprint is created during the production of components, this footprint therefore remains very high per trade fair.
Our working method with modular components allows us to achieve the same individuality of design, while at the same time using numerous components. While this does not reduce the ecological footprint of production, it does reduce the sustainability of each individual exhibition stand.
Expertise 2:Using reusable, ecological graphics
Another aspect of our DNA is the use of ecological graphics, which can be used several times due to your production method. Especially in recent years the use of textile graphics in exhibition stand construction has increased. The advantages were obvious: weight saving, low transport volume and low transport weight. Nevertheless, there are some central differences in the production of textile graphics:
Solvent printing: The first and certainly the cheapest way of producing textile graphics. Unfortunately, the only advantage is the low production costs. The disadvantages of using solvents are the strong smell when they are applied and the sensitivity to folding. In our opinion, such graphics should not be used in exhibition stand construction - at least we don't do it.
UV printing: UV printing is a more modern alternative to solvent printing. Here, the colour is not fixed on the medium by the evaporation of solvent, but by UV light. This process is therefore more ecological than solvent printing, but has a high kink sensitivity and is therefore not suitable for multiple use. We only use this technology for very price sensitive customers and if the graphic is only used once.
Thermosublimation printing:In this printing process, a water-based colour is applied to the textile (in this case a purely natural product) and the textile fibre itself is dyed with heat and pressure. The result is a very soft, high-resolution fabric that is not only resistant to kinking but can also be cleaned like normal laundry. Similar to modular exhibition frames, this is the basis for reuse and thus sustainable exhibition construction. We prefer to use this method. For the single print this procedure is more complex, but already with double use it is cheaper AND more sustainable.
Expertise 3: Using pooling effects in logistics
There are two central issues to consider in logistics, storage and transport of the material. In order to reduce the ecological footprint, it is important to try to limit both issues as much as possible.

By using modular structures for rent, we create an incredible pooling effect. This way, the customer does not even have to store his "individual components", as he only rents the structures for his events. Through this so-called pooling effect, the storage capacity of the material can be drastically reduced and with it the associated heating and electricity costs. In the ideal case, the material is always on the move. This effect is similar to Car-Sharing, these cars "stand around" less than cars in individual ownership.

Nevertheless, we have dealt with the subject of warehousing in great detail and moved into a modern logistics centre at our parent company WWM in 2018.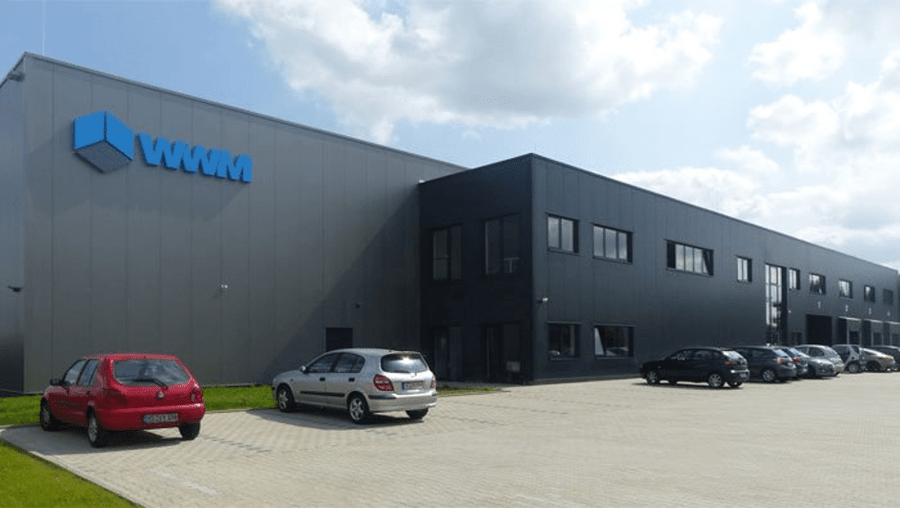 The logistics centre is a so-called Plus Centre, it produces more electricity than it consumes on an annual basis. This means that the storage of your components - should you ever be in the centre - is very sustainable.
The second central aspect of logistics is transport. The modular components we use are made of lightweight aluminium - similar to aircraft construction - and therefore have a minimum transport weight. The same applies to the individual textile graphics of our customers. But what is even better than low transport weight - no transport weight at all. Due to the standardization of our modular components, they are available worldwide with unique article numbers. So will we send our structures around the world for you? No, just your individual graphics. We can rent the modular structures worldwide and thus minimize the ecological footprint of your exhibition stands worldwide.